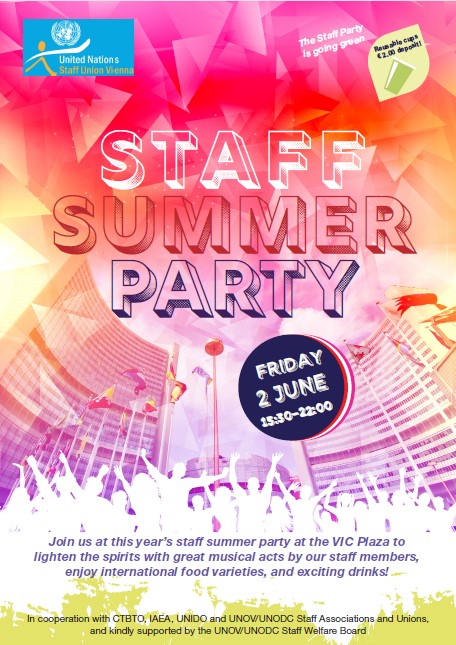 VIC Staff Summer Party
Staff Council is pleased to announce that in cooperation with IAEA, CTBTO and UNIDO Staff Associations and Unions, and with a generous support from the UNOV/UNODC Staff Welfare Board, the annual staff summer party will be held on Friday, 2 June 2023, weather permitting.
Join us at this year's staff summer party at the VIC Plaza to lighten the spirits with great musical acts by our fellow staff members, enjoy international food varieties, and exciting drinks!
This year the selection of food has been extended to offer a wider range of delicious dishes, including vegan and vegetarian options!
So, indulge and enjoy cocktails, 'loaded fries', burgers and hotdogs, sweet potato fries, traditional Indian food with mango lassi, homemade pasta, or a simple juicy grilled chicken with a variety of sauces and salads!
In accordance with safety measures implemented by UNSSS, the number of persons on the Plaza shall not exceed 1900. Therefore, priority will be given to VIC staff members and we count on your support to limit the number of private visitors.
We look forward to seeing many of you there!